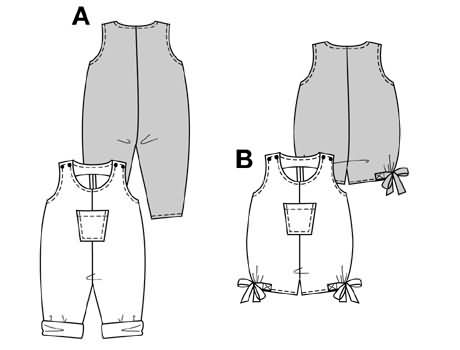 I'm sure that by the time my son gets to preschool, I will have tried out every single overall pattern on the market! Here is another one... much more successful than the last!
Burda 3022. I picked this pattern up at the Lifeline Bookfest for a dollar. Someone had pre-loved it, but thankfully all the pieces were intact. I chose to make the short overalls (B) with a few adjustments to make them less girly.
Overall a great pattern. It was easy to sew and came out really well. Again, when they say loose-fitting, they really mean it! I did take these overalls in under the arms as well, but had no other pattern related problems. If you like loose fitting, then it could be left as is.
Instead of adding the cute ties at the knee, I cut the legs really short and and put elastic around the hem. The effect is a very cute romper. More masculine for my boy. I recommend this one... sadly I don't think you can still buy it!